Who We Are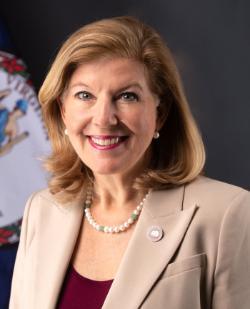 Aimee Rogstad Guidera was appointed by Governor Glenn Youngkin in December 2021 to serve as the Secretary of Education for the Commonwealth of Virginia. In this role, Secretary Guidera oversees education from early childhood through postsecondary learning. Throughout her 35 year career, Aimee has championed high expectations for every student and the changes needed to deliver on that commitment.
Secretary Guidera was the Founder, President & CEO of the Data Quality Campaign (DQC), a national, nonprofit organization leading the effort to empower educators, students, parents, and policymakers with the information they need to make the best decisions to improve student outcomes. Aimee believes that information has the power to transform education to ensure every child in this country is prepared for success in college, career, and their community.
A respected thought leader in education, Aimee was named one of TIME's 12 Education Activists of 2012. She has also been cited as an expert on education policy and the value of education data by publications such as the New York Times, Business Week, NPR, and Education Week.
Before founding DQC, Aimee served as the director of the Washington, DC office of the National Center for Educational Achievement. She was the vice president and chief of staff for the National Alliance of Business (NAB), began her education policy career in the education division of the National Governors Association's Center for Best Practices, and taught for the Japanese Ministry of Education. Aimee received her bachelor's degree from Princeton University's Woodrow Wilson School of Public and International Affairs and earned a master's degree in public policy from the Harvard Kennedy School of Government.
Aimee and her husband Bill are the parents of two adult daughters. She was an active supporter of her daughters' public schools and served as a classroom volunteer, parent-teacher organization leader, and system advisor. Aimee believes that parents, students, and teachers comprise the three legs of the stool on which student success depends.
What We Do
Virginia Department of Education
Virginia Career Education Foundation
The State Council of Higher Education for Virginia
Virginia Early Childhood Foundation
Virginia Community College System
Virginia Leaders in Education Visit Germanna